Normal hours are Monday through Friday 10-6; Weekends 11-5. We are closed on the following holidays: New Years Day, MLK Day, Easter, Memorial Day, Independence Day, Labor Day, Thanksgiving (Thursday and Friday), Christmas (24th through 26th).
What is your turnaround time?
30 days for custom framing. Rush orders can sometimes be accommodated depending on your art and materials chosen. Rush fees may apply.
How much does it cost?
Prices start around $50 for a 5 x 7 inch ready made, and very loose ball park is $.50 - $1.50 per square inch beyond that. Consultations are free. Cost varies depending on the materials you choose, the size of your piece, and the complexity of the labor involved. If you have a price in mind, let your framer know and they will work to design within your budget. We offer the option to put down a 50% deposit at the time of the order, and pay the balance at pick up.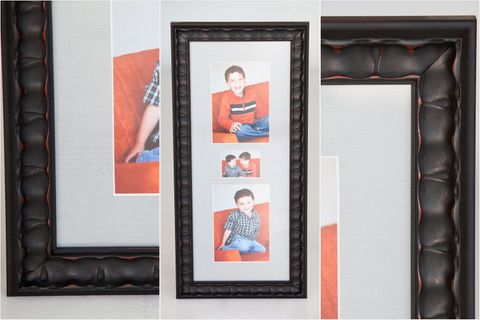 What is a ready made?
Ready mades are one-of-a-kind, pre-built frames, made from extra supplies we have at the shop. These frames are sold at a lower cost and come with conservation glass, professional assembly, backing and wire. They are custom frames pre-built to various sizes starting at just a few inches, all the way up to 18x24 inches. They offer the opportunity to put a high end frame around your smaller artwork at a fraction of the cost. Ask your framer if you are interested in a ready made frame.
Do you stretch canvases?
Yes, we stretch canvases, and offer custom built stretcher bars, of all sizes. Call us for information on oversize canvases larger than 15 feet x 7 feet.
Can I get a quote over the phone?
We do our best to give you a ballpark estimate over the phone, but prices vary greatly depending on your art and the materials you choose. For a truly accurate quote, bring in your artwork for a free consultation.
Do you replace broken glass?
No, but we see artwork from lots of local/national printers, and are happy to offer our recommendations. For printers, we recommend:
Do you sell table top frames?
We do not carry a selection of take-home, table top frames. Our ready made collection of frames involves leaving your artwork and having us assemble it. We do offer table top stands as an option for custom framing instead of a hanging wire.
Is the art on your walls for sale?
Yes, most art on our walls is available for purchase. Ask your framer if you see something you'd like to own.